1. Understand her style
Before you decide to buy a diamond ring, gather all the information you can regarding your significant other's taste in jewellery - diamond shape and size, the ring style, metal preferences, etc. Her lifestyle and fashion tastes are also essential factors to consider. Your search for the perfect diamond ring will become much easier if you have this information beforehand.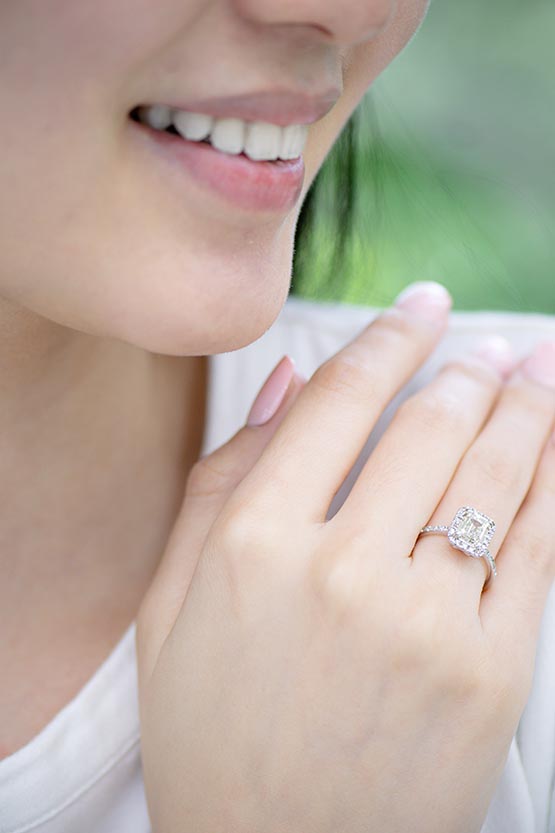 2. Do adequate research
Although diamond engagement rings are a classic piece of jewellery, trends change with time. By understanding the different ring designs, settings currently in vogue, and the differences between each diamond, you will be able to make smarter decisions when picking out the finer details for the engagement ring.
3. Decide your budget
Before starting the search for engagement rings, you should determine a budget. Doing so will ensure you get the best possible diamond and ring design options within the budgetary constraints you have.
4. Shortlist the diamond shape
Every diamond cut is priced differently and varies depending on the number of Carats you choose. The most popular and most expensive of the diamond cuts are round diamonds. If you have a limited budget, look beyond the traditional round-cut diamonds and explore other shapes. It will help you get more carats for a lower price. Try to understand more about diamond characteristics before you shortlist a few designs.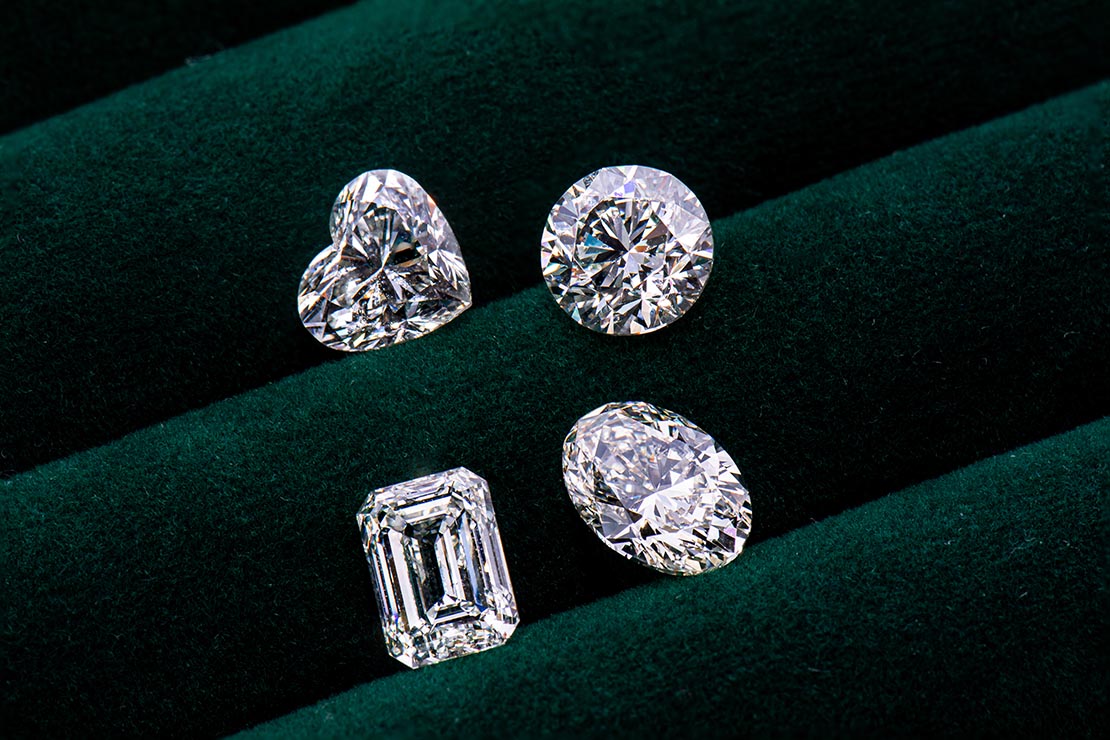 5. Choose a Metal for the band
The choice of metal for your band will depend on your fashion preferences, budget, and lifestyle. At Tessera, you can choose from two different types of Gold – 14K Gold and 18K gold. We also have three other gold colour options– Yellow Gold, White Gold, and Rose Gold for whichever gold type you choose.
Yellow Gold, White Gold, and platinum were traditionally used for engagement rings and wedding bands. However, in the recent past, rose Gold has emerged as a unique and contemporary alternative. Check out our guide here to identify which metal will be a good choice for your ring.
If you're looking for something dressier, you might want to get a band with stones.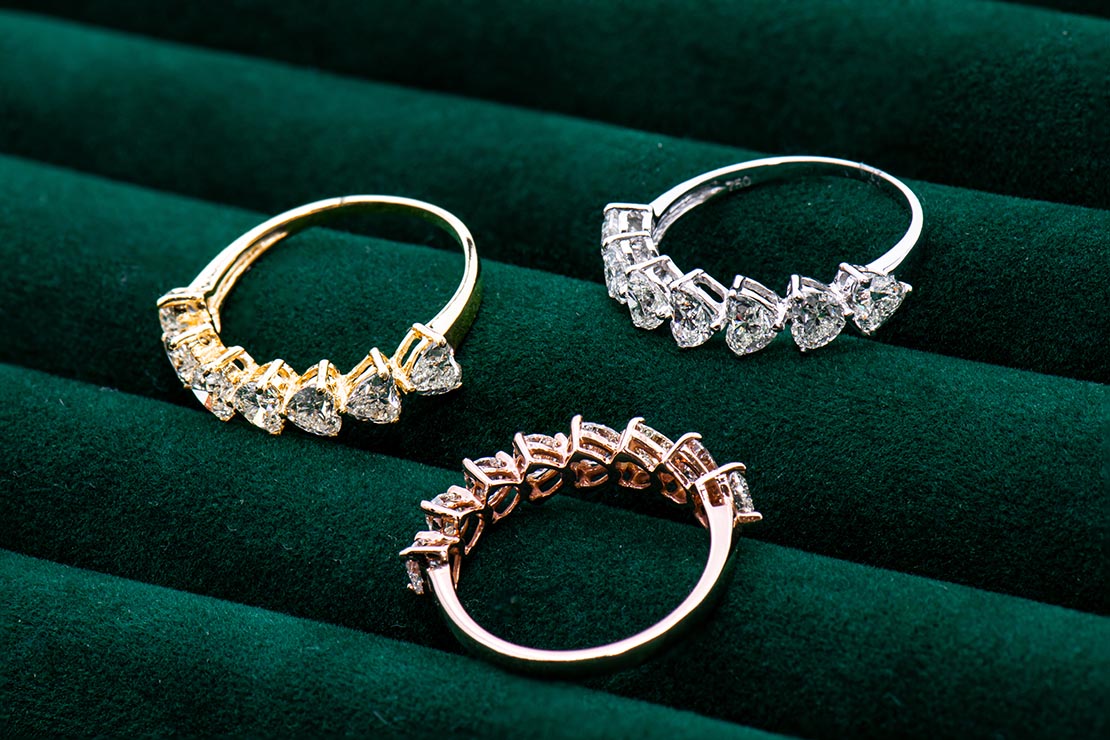 6. Choose the perfect diamond
The diamond is the focus of any engagement ring, and everyone has a different preference regarding the type of stones they like. Few prefer a larger stone, and they're willing to compromise on the other aspects of the stone. Others want a diamond with the highest clarity but are open to getting a smaller-sized stone.
If the budget is a constraint and the size of the diamond is a priority, decide on an ideal carat size and be flexible regarding the other characteristics of the diamond.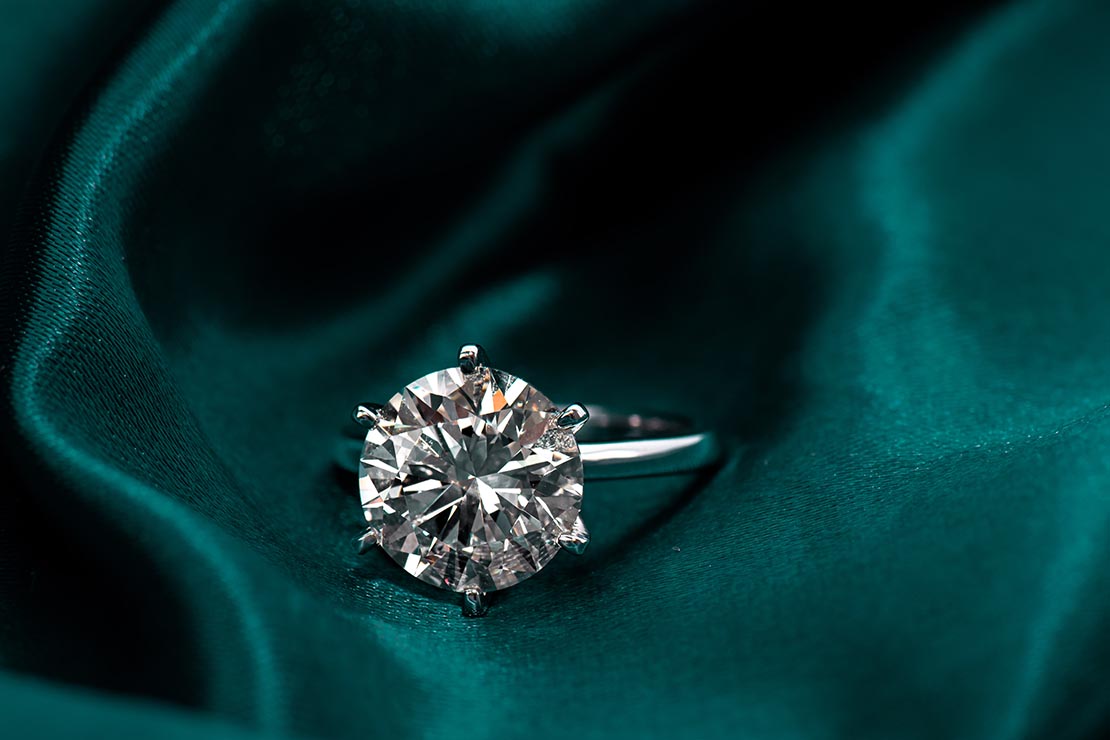 7. Find the correct ring size
The critical consideration while buying a diamond ring is the fit. Make sure you get the correct measurements for the ring finger as you don't want a ring that's too loose or too tight. The ring should fit just right; it should be snug yet comfortable. There are different ways to get your significant other's ring measurements:
If you're shopping for engagement rings together, you can get professional sizing done at a jewelry store
You can borrow the ring she wears on her ring finger to get her measurements
If you're going to make a surprise proposal, you can take the help of a trusted friend to determine her ring size
Use our ring measuring guide to get the ring size from the comfort of your home
8. Visualize your engagement ring along with Your Wedding Band
When shopping for an engagement ring, do think about what type of wedding bands will look best with the engagement ring you have in mind. This is often overlooked. There are a few engagement ring designs that don't allow the band to fit nicely against them.
9. Always buy only certified diamonds
Buying an engagement will be one of your life's most expensive investments; take the time to do your research and shop wisely. Then, when the time comes to buy the stone for the ring, make sure you're buying only certified diamonds from reputed diamond laboratories like the Gemological Institute of America (GIA).